The challenge of integrating beneficiaries of international protection in the European Union
Once the stages of reception and processing of their asylum applications have been completed, persons granted refugee status or another form of protection must integrate in their new country of residence. Although the 1951 Geneva Convention and the Common European Asylum System lay the foundations for this, EU Member State governments are putting in place policies with varying degrees of incentives to promote social inclusion of these newcomers in their host societies. What lessons can be drawn from the implementation of integration public policies for beneficiaries of international protection in the Union?
Return
Subscribe now
Receive every three months the new issue of European Insights in your mailbox
Subscribe
News
Beneficiaries of international protection in Europe as political actors in their integration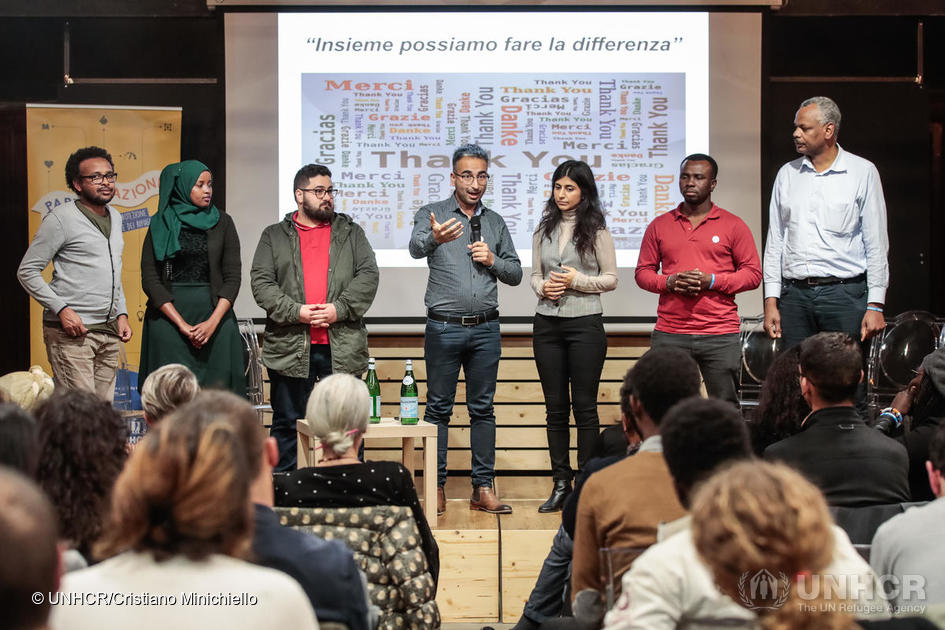 Since millions of asylum seekers have settled in the EU member states in recent years, the national governments and the EU are now debating which methods to implement to ensure the integration of those who have been granted international protection. But what role do those who are most concerned play in defining these policies?
Although organisations such as the United Nations High Commissioner for Refugees (HCR)[1] have long been advocating for the participation of beneficiaries of international protection (BIP) in drafting public integration policies, this issue has only recently gained ground in the public debate. In Europe, BIPs are in fact often 'made invisible' by the language barrier or the spatial segregation they are subject to, and they are often perceived as passive recipients of government or association aid. They are only rarely considered as autonomous actors, with specific skills and expertise that they could use to promote social inclusion for themselves, their families, and their diaspora in the country hosting them.
According to the Eurostat database, 2 210 950 asylum seekers received international protection in the EU between 2015 and 2019, which is 0.5% of the total population of the European Union. The issue of how to integrate them has become crucial, and public authorities are paying increasing attention to the contribution they could be making to public policy on the subject. Despite the difficulties they face, exiles do try to organise themselves to influence the debates and make their voices heard in the country where they have found refuge. What forms does this participation take and what are the results?
In general, BIP political participation in Europe is still relatively limited. Although the right to vote is considered as an important factor for integration since it allows one to participate in the public life of one's country of residence, there is only a small number of specific schemes for BIPs in the EU. Only a few States such as Denmark, Ireland, Sweden, Finland, Luxemburg and the Netherlands allow third-country nationals to vote, under certain conditions, in local elections. However, this does not mean that the BIPs do not have access to spaces of political participation: in countries such as Germany and France, one does not need to be a national to join a political party, NGO or trade union. However, in order to actively participate in such collectives, a certain number of constraints must be overcome. These include the language barrier, a lack of availability caused by social or economic difficulties in integration, but also the need to adapt, since many BIPs were not able to exercise such rights in their countries of origin.
Despite all this, many migrants are proactively contributing to the work of the different public authorities in the EU to ensure that their rights are respected and to facilitate their integration (improving living and working conditions, accelerating administrative procedures, etc.). They get involved in informal actions, such as demonstrations[2], or through movements organised by and for BIPs, which are consulted in a more formal way by the different levels of authorities responsible for public policy. These associations and networks, such as "Refugees Ideas and Solutions for Europe" (RISE), the Network for Refugee Voices, Migrant Voice and the Syrian Volunteers in the Netherlands association, are grouped under the term "Refugee-Led Organisations" (RLOs). They aim to represent and give voice to BIPs at all levels of decision-making in Europe, to influence migration policies and public opinion and to promote the integration of refugees in their host societies. In short: give them visibility in the public space.
However, the RLOs sometimes find it difficult to obtain an equal footing with the local and international organisations who are much better established. For example, they experiencedifficulties in securing funding, notably because of a lack of technical knowledge in applying for grants or setting up fundraising campaigns, which limits the possibilities available to them to act and influence the decision-making process. Additionally, many of these organisations are primarily active in meeting the immediate needs of new arrivals (food, housing, advice and guidance) and are only marginally involved in defining public policies on integration. Currently, in no member State have BIPs been involved at national level in the drafting or assessment of integration policies, despite these policies being aimed at them.
Rising to these challenges are NGOs such as the British and Finnish refugee councils and the International Rescue Committee – IRC, alongside various local decision-making bodies (municipalities) and international bodies (led in particular by the European Commission and HCR). These bodies have signalled, on one hand, their intention to integrate immigrants into their organisations and on the other, their desire to collaborate more closely with the RLOs. Thus, they will be able to use the knowledge and experience of BIPs when addressing questions and situations relating to migration and integration[3].
According to Masooma Torfa, co-founder of the German association Female Fellows e.V. and member of several RLOs active across Europe, there are several advantages for member States and the EU in making use of the field expertise and the legitimacy these organisations and the refugees already present in the host country have to offer. The benefits include a more effective, faster identification of local problems; an improved and consolidated dialogue between the host societies and the new arrivals; and making it easier to help the most isolated people to find employment, communicate and learn the language and culture of their host country. A study by the British Refugee Council on the role of RLOs in the "Strategy for Social Integration" initiated by the Mayor of London, demonstrated that by encouraging refugees to fully engage in their community, the city's RLOs were able to play a "key role" in improving access to employment, for example. In doing so, they made a crucial contribution to the political goals for the integration of BIPs.
They mostly participate in defining the public integration policies at local level, where a large part of the issues are played out. We can cite here the example of several cities that have developed initiatives aiming to increase the local participation of BIPs and thus enable them to contribute to formulating integration policies. Thus, the "Consulta delle culture", created in Palermo, was actively involved in designing the "Palermo Model", a project that aims to recognise the civic rights of citizens of the city solely based on residence and not nationality. The actions implemented by other European municipalities, such as Hamburg[4] and Gdansk[5], demonstrate the same commitment to assigning a greater role to BIPs in this domain.
This desire to include BIPs and to recognise the role they play as actors in public policies can also be found in the European institutions and international organizations. For example, representatives of RLOs are increasingly regularly being invited to participate in symposiums and conferences on migration so that they can be included in the discussions as full participants. The European Commission has also launched several initiatives such as the "European Migrant Advisory Board", a group of nine people with "immigrant backgrounds", including BIPs. They are tasked with giving their opinion, be it only advisory, on questions relating to European migration policies. More recently, as part of the process of drafting its new "Action plan on Integration and Inclusion", the Commission launched a call for applications on 22 July 2020 to create a group of experts again only constituted of migrants, including asylum seekers and BIPs, who will work on developing and implementing European policies on migration, asylum and integration.
Vaughan Jones, president of the Praxis association which helps migrants and refugees in the United Kingdom, remarked in an article published in 2007 that "the knowledge, skills and experience required to bring about change are latent in the people for whom the change is needed". Thus, in order to help asylum seekers and BIPs overcome the economic and social crisis caused by COVID-19 in Europe, and in order to introduce integration policies that genuinely take into consideration the daily problems and obstacles they meet when trying to integrate in their host society, it is more urgent than ever to give these people a way of playing a role in the societies that host them so that they can become true agents of change.
[1]For several years, the HCR has been supporting the concept of a "community-based approach" which aims to place refugees "at the centre of operational decisions" to make them "equal partners" alongside the public actors. More recently, the agency advocated for greater refugee participation in integration policies in the 2016 New York Declaration for Refugees and Migrants, and in the Global Compact on Refugees, adopted in 2018.
[2]Such as when refugees and campaigners occupied Oranienplatz square in Berlin from October 2012 to April 2014 to voice their opposition to the German government's migration policy.
[3]An example of this is the establishment of the Transatlantic Migrant Democracy Dialogue, a network of migrants and refugees developed by the Migration Policy Group. Notably, its members participated in the "VoteEuropa" campaign in 2019 to call for the right to vote for third-country nationals in the European elections.
[4]Between 2015 and 2019, the City of Hamburg in Northern Germany established a method of public participation, in cooperation with the other residents, in the attribution of housing to refugees.
[5]In the city of Gdansk, Poland, a advisory council was launched in 2016. It is currently made up of 14 migrants, including several refugees, who keep the mayor regularly informed of the concerns of this part of the population.