European migration policy and the rise of populism
Matteo Salvini in Italy, Viktor Orban in Hungary, Jaroslaw Kaczynski in Poland, Sebastian Kurz in Austria, Andrej Babiš in Czech Republic. All can be qualified as 'right-wing populists'. Behind the word, a common vision: to embody the will of the people - the so-called 'silent majority'- while rejecting minority groups, especially migrants. Focus on the consequences of rising populism on European migration policy and the initiatives to counter it.
News
The other impact of the 2015 crisis: unprecedented mass mobilisation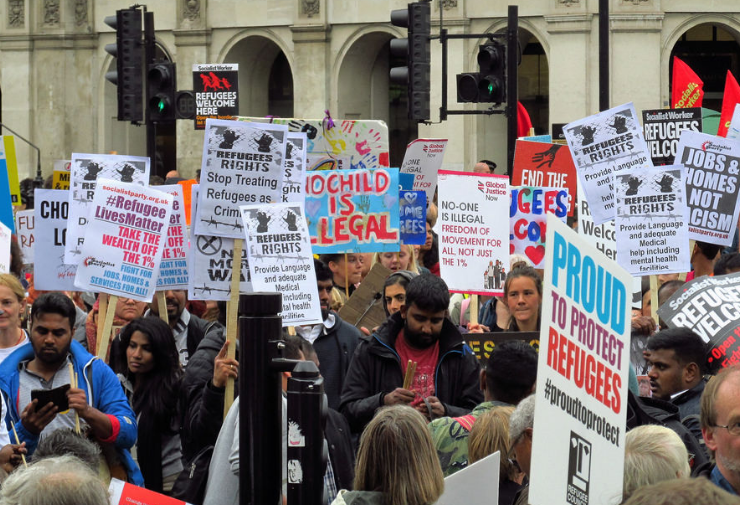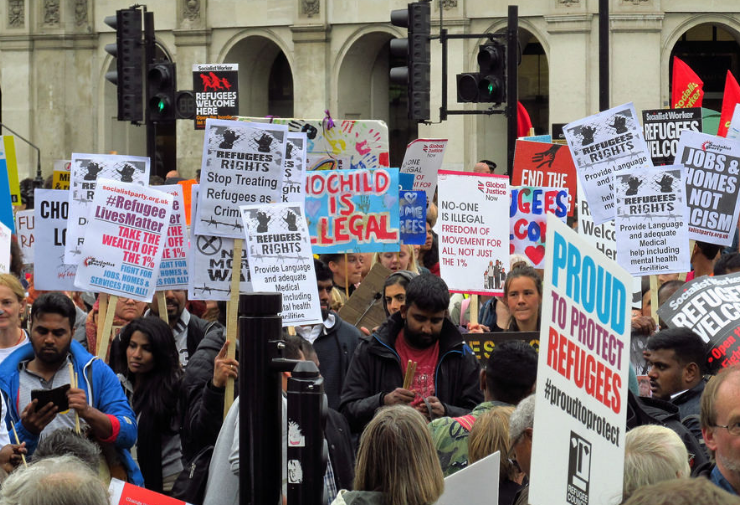 Since 2015, in reaction to the arrival of refugees and migrants and the repressive response of some European leaders, many European citizens have decided to mobilise and commit themselves to helping refugees and migrants in a range of areas. According to the German professor Wemer Schiffauer, who published a book on solidarity initiatives, this is an example of "unprecedented mass mobilisation", which crosses social, religious and political divides.
With the "refugee crisis" quickly turning into a "reception crisis", solidarity and citizen-based initiatives were set up to help refugees and migrants to find accommodation. Since 2015, the "Refugees Welcome" online platform, created by three German citizens, has enabled individuals with accommodation or a spare room to sign up and host refugees. Keen to help refugees get out of precarious situations, this platform has grown fast and now offers accommodation in several European countries. Other similar European citizens' projects have been set up, including "Refugee Hero" in The Netherlands, the Citizens' Refugee Support Platform in Brussels or even the CALM (Comme à la maison – "At Home" in English) project set up by French charity Singa.
What's more, civil society has also been harnessed to publicly denounce xenophobic measures that threaten refugees and migrants and to mobilise European citizens in this fight. In response to Denmark's plan to send failed asylum seekers and criminal refugees to a remote island, several hundred citizens gathered in Copenhagen chanting slogans such as "Stop Racism Now" and "Don't fear foreigners".
For its part, the European Citizens' Initiative "We are a welcoming Europe, let us help!", approved by the European Commission in February 2018, is underpinned by a coalition of several civil society organisations. They seek to denounce the criminalisation of solidarity with refugees and migrants and to mobilise European citizens to improve their integration and the respect of their fundamental rights.
To make these different initiatives easier to find, mappings have been carried out in various countries. In France, a civil society coalition, composed of volunteers, charity workers and individuals, has mapped activities across the country on the online platform Sursaut citoyen. The aim is to build connections between engaged citizens and make information available to people in need of help.
In parallel to the activities organised and coordinated by civil society, many citizen initiatives also respond to spontaneous bursts of solidarity, like the three-month marathon mass organised in The Netherlands to fight the expulsion of an Armenian family. In Sweden in July 2018, a young Swedish student prevented a plane transporting an asylum seeker being deported to Afghanistan from taking off.
Some solidarity initiatives have even been driven by European cities themselves. In Barcelona, to facilitate the coexistence of Barcelonans and migrants, "antirumour agents" deployed in local community centres and on the street, were trained to deconstruct stereotypes and spread true information. In Ireland, the mayor of Galway launched the "Bridge project" to encourage people to welcome and integrate asylum seekers, in particular through advocacy activities. In some European cities, solidarity has also been expressed in the form of civil disobedience , for example in Palermo, Florence and Naples, where the mayors announced their intention not to apply the Salvini Decree-Law, calling it "inhuman".
Furthermore, many projects are being run to enable European cities committed to helping and supporting refugees and migrants to coordinate and share good practices. For example, the European Arrival Cities project is enabling ten European cities, including Dresden in Germany, Messina in Italy and Vantaa in Finland, to share their experiences and good practices for promoting the integration of refugees.
These different civil society activities within the European Union constitute a powerful opposition to measures that undermine the rights of refugees and migrants. They are able not only to offer help but also to exert political pressure on institutions and governments.